Table and booking organization at your place, is one of the most important aspects to consider. A map correctly organized, is going to allow you to speed up the accommodation of your customers. Just seeing the POS, you are going to know which tables are booked, if your customers have ordered something, if they are waiting for the food to arrive or if they have asked for the check. Table booking at Techni- Web is completely intuitive and easy to use.
The map that appears on the screen, is fully customizable. ¿What does that mean? You will see exactly the distribution of your restaurant at your POS menu, including sales, table distribution and details, for an easier visual location.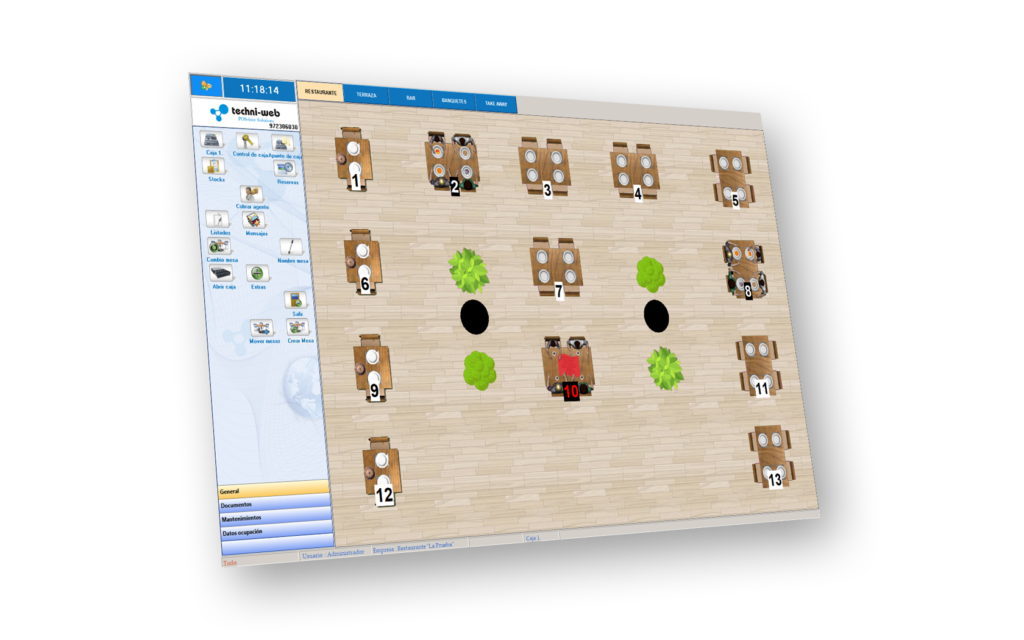 With the Techni- Web table organization, you can:
Know which tables are booked and reserved. There will be no queues in your reception room.
Configure the restaurant map with the principal menu Techni- Web, fully customizable for each customer.
Have all the establishment zones in only one map (living-room, bar and take away service).
Assign concrete zones and tables to a waitress, in order to know which zones each person manage. In that way, you are going to take complete control of your business experience.
Know in your map which tables are out of service due to the social distancing rules.
Control, rapidly in which step of the order are your guests (if they have already ordered, started eating, ask for the check and payed).
Train your employees in an agile and fast way. Techni-Web is really easy and intuitive to use, and also agile in its functioning.
A correct table organization, integrated with bookings and order states in a visual way, are going to give you multiple benefits in your restaurant. ¡Start now working in an easy way with table and booking organization at Techni- Web.
¿Any doubt? Our technical team is going to give you advice during all the process. At Danzai Software, we work always to be up to date, providing real and effective solutions to our customers.